Accomplishments
The purpose of this organization is to consider and act on concerns affecting the quality of life and character of the Fauntleroy community in Seattle, Washington. — Fauntleroy Community Association Bylaws
One only needs to skim the Fauntleroy Community Association's annual reports , newsletter archive, or the project links below to recognize the deep commitment that hundreds of neighbors have made to Fauntleroy's natural, built, and social environment and history.
Since 1980, the Fauntleroy Community Association has addressed ferry, traffic, pollution, and public safety issues; restored salmon habitat; built parks and playgrounds; and celebrated the community's assets – especially its people.
Projects We Have Taken On
Issues We Have Taken an Active Interest In
Get Involved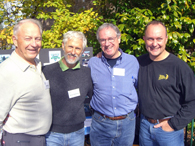 There are many opportunities to get involved in the life of your community. Click on the links at left for more information about issues, projects, and special events. If in doubt about the primary contact, please feel free to contact any member of the Fauntleroy Community Association board of directors.