Cove Park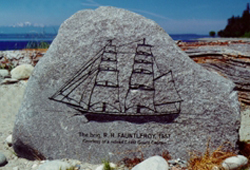 Changing the much used lot just north of the Ferry dock from a littered vacant lot to a beautiful neighborhood park took a lot of work, hours of meetings, hands-on gardening time, and a great deal of determination. Accomplished by a neighborhood group working with city and state agencies, the result is a delightful park which is still a work-in-progress.
Stop by to enjoy the native plants, see the artwork by Tom Jay, and dig your toes in the sand on the beach.
Picture a West Coast Native American family on their way to the oyster grounds. The Nootka sealing canoe or a vessel very much like it would have carried them there in style. This highly evolved craft cuts through water like a knife, with fluted sides that are self bailing. The rear tends to rise to a following sea. Craft like these, attributed to the Nootka tribe, were traded and copied throughout the Pacific Northwest peoples.
Construction began with a hollowed out cedar log. The craftsmen would fill it full of water and drop hot stones in it to steam it into the beautiful shape.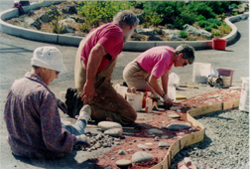 Our canoe began with plans from the University of British Columbia. A naval architect lofted the lines of this historic canoe generating specific cross sections. Tom Jay, artist and builder, then created a layered fiberglass mold. Community volunteers helped him fill it with ferro-cement for our Cove Park sculpture.
Please show utmost respect for this work of historical art.