News page 7
date posted:
23 Oct 2019
UPDATE: December dates added.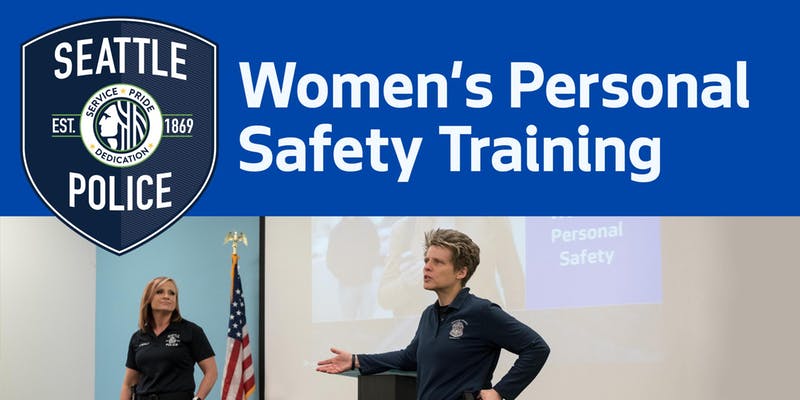 Learn proactive tips and step you can take to enhance your personal safety taught by female Seattle Police officers and employees.
Our class goals:
Know the important role your instincts and gut reactions play
Discover potentially dangerous situations and how to avoid them
Learn how to make a safety plan
Decrease the odds of becoming a victim
About the class:
This is a facilitated discussion and lecture about crime prevention and safety.
This is not a self-defense class.
This class is open to women of all ages and most appropriate for young women who are at least 14 year of age or older. For that reason, children should not attend.
November
December
Feel free to share this event announcement with all of the women in your life!
---
date posted:
16 Oct 2019
Dear Community Members,
Please visit publicsafetysurvey.org to take part in the Seattle Public Safety Survey. The purpose of the survey is to solicit feedback from those who live and/or work in Seattle to increase public safety and security in your neighborhood. Through the survey results we will provide detailed reports on the safetyconcerns of each neighborhood to the Seattle Police Department, who will use that information to alter their community policing plans in your neighborhood to address the concerns of your community.
The survey is accessible from October 15th through November 30th and is available in Amharic, Arabic, Chinese, English, Korean, Oromo, Somali, Spanish, Tagalog, Tigrinya and Vietnamese.
Please tell your friends, family, co- workers and community members about the Seattle Public Safety Survey and feel free to post the survey link on your social media. Public safety and security are community concerns. Please make sure your voice is heard by completing the public safety survey today.
---
date posted:
26 Sep 2019
Bringing the Community together to celebrate all that is autumn.
For more than 17 years, the Fauntleroy Fall Festival has been a fixture in the Fauntleroy neighborhood.
We couldn't do it without our team of day-of volunteers. From helping the community build birdhouses to setting up the pie eating contest, volunteers are what make this possible. Sign up today!
https://tinyurl.com/2019FallFestivalVolunteers
---
date posted:
12 Jul 2019
As a part of the process evaluation of the Seattle Police Department's Micro-Community Policing Plans. Seattle University is looking for community members to participate in an online self-paced discussion regarding community perceptions of crime, safety, and police legitimacy, as well as knowledge of and satisfaction with the MCPP.
---
date posted:
24 May 2019
Sweet, Sweet Music
Friday, May 31
The Sweet, Sweet Music community series at Fauntleroy Church will continue on Friday, May 31, at 7:30 pm in the sanctuary with David Yanacek on French horn and Bronwyn Edwards on piano. Expect arrangements of both classical and contemporary pieces, plus special guests. Admission at the door ($15 adults; $10 senior; kids free) will include beverage and dessert.
---
date posted:
24 May 2019
'The Detention Lottery'
Friday, May 24
This immersive drama will take you inside a courtroom for a look at what detainees face in the U.S. immigration-enforcement system. The free community performance led by professional actors and an immigration attorney will be Friday, May 24, 7 pm in Fellowship Hall at Fauntleroy Church.
---
date posted:
24 May 2019
On June 8th from 1-3 PM there will be an All-Ages Community Salmon Release at the Big Bridge in Fauntleroy Park (PDF).
---
date posted:
02 Apr 2019
Recycle Roundup a the Fauntleroy Church. April 28th from 9:00 am to 3:00 pm
Find the long list of what to bring for free, responsible recycling here at www.fauntleroyucc.org. You'll be in and out in minutes at this well-organized event. Free; donation optional.
---
date posted:
30 Mar 2019
If you missed the open house there is still an opportunity to have your voice heard regarding the Fauntleroy Creek Culvert Replacement Project.
Review the Online Display Boards
Then Submit your Feedback
---
date posted:
20 Mar 2019
Save the Date: 07 May 2019
Eat at Joe's from oepn to close on May 7th and a portion of that day's earnings will go straight to puttin on the annual Fauntleroy Fall Festival - keeping it family-friendly, fun, and free.
---