News page 9
date posted:
04 May 2018
May 9 from 6 - 8 is the Final Open House for the Mandatory Housing Affordability (MHA) District 1 is at Louisa Boren K - 8, 5950 Delridge Avenue SW. District 1 includes Fauntleroy and the urban villages: Admiral, Morgan Junction, South Park, West Seattle Junction, Westwood-Highland Park. This is the last chance to ask questions about the proposed upzones from representatives from multiple city departments directly working on the MHA Proposal. The City has sent out emails that the following City departments planning to attend are: Office of Community Planning and Development (OPCD), Office of Housing (OH), Department of Neighborhoods (DON), Seattle Parks, Seattle City Light (SCL), Seattle Public Utilities with Rainwise (SPU), Seattle Department of Construction and Inspections with RRIO and code compliance (SDCI), Office of Sustainability and the Environment (OSE), Office of Economic Development (OED), King County Metro Transit (METRO), and Seattle Department of Transportation (SDOT).
---
date posted:
01 May 2018
Washington State Ferries continues its WSF 2040 Long Range Plan outreach meetings. The final meeting for the Triangle route is in Fauntleroy on May 17th. The details are below:
Fauntleroy
Thursday, May 17, 6 – 8 p.m.
Fauntleroy Church
9140 California Avenue SW
Seattle
If you are unable to make it to the meeting, or if you have additional thoughts, the online open house will be live through May 24: https://wsflongrangeplan.com/
There is a nice poster here
---
date posted:
04 Apr 2018
Support the Fauntleroy Fall Festival
Dine at Endolyne Joes on Tuesday April 24th, 2018 between 8AM and 10PM and support the Fauntleroy Fall Festival.
Joe's will donate a percent of sales to help keep the popular october festival free for the entire community.
Add your own donation by buying a chance (or two) on many attractive raffle items.
Endolyne Joe's is located at 9281 45th Ave SW. 206-937-5637
---
date posted:
30 Mar 2018
Councilmember Herbold has proposed an amendment to the legislation contained in Council Bill 119173 to exempt the area around the ferry terminal. The details are on page 55 of this City Council Staff Memo.. (The pages are numbered strangely. After letting the document load, search for "Amendment E3: Parking requirements near the Fauntleroy ferry terminal")
It is important that we contact Lisa and the other PLUZ committee members to express our support. Contact information for each can be found here.
---
date posted:
30 Mar 2018
Sound Transit will be conducting a Neighborhood Forum at the Alki Masonic Center on May 5th from 10 AM to 12:30 PM. Details can be found here. There is a link to RSVP for the forum if you would like to attend. This is our opportunity to specify our preferences on how we would like to interface with light rail in our community.
---
date posted:
20 Feb 2018
by:
Mike Dey Fauntleroy Community Association
P.O. Box 46343
Seattle, WA 98136-6343
February 20, 2018
To: City of Seattle (spencer.williams@seattle.gov)
Attn: Mr. Spencer Williams, aide to Mr. Rob Johnson
Ms. Lisa Herbold, West Seattle Councilwoman
Subject: Proposed Council Bill 119173 Concerning Off-Street Parking
The Fauntleroy Community Association (FCA) supports land use policies that:
retain the character of our Fauntleroy neighborhood and businesses,
provide for affordable housing, with equitable allocations for growth and density,
concurrently develop infrastructure, including transit, utilities, green spaces, parks & other amenities to serve our growing community and promote urban livability.
Founded in 1980, the Fauntleroy Community Association has historically focused on issues that affected or potentially affected the quality of life in our community with focus of traffic, pollution, the presence of the Washington State ferry and other issues of concern. Over the years, our activities have expanded to include restoration of salmon habitat in Fauntleroy Creek and the cove, local parks and playgrounds, crime and public safety, traffic issues as they affect all of West Seattle, involvement in transportation-related committees and meetings, and many other topics. We sponsor two local festivals and issue quarterly newsletters for 400 member households, businesses and supporters.
Read More...
---
date posted:
11 Feb 2018
FCA Business Meeting
Feb 13, 2018
7:00-9:00 PM
Fauntleroy Schoolhouse
The purpose of the Fauntleroy Community Association is to consider and act on concerns affecting the quality of life and character of the Fauntleroy community in Seattle, Washington.
| Topic | Who | Time |
| --- | --- | --- |
| Welcome and Introductions | Mike | 5 Minutes |
| Review and Approve Minutes | Mike/All | 2 Minutes |
| What we know about current zoning | Mike/All | 15 Minutes |
| How does HALA/MHA change the zoning | All | 80 Minutes |
| What are the next steps | All | 15 Minutes |
| Action Items | Frank | 5 Minutes |
Next Meeting - March 13, 2018 Fauntleroy Schoolhouse
---
date posted:
22 Jan 2018
In the December newsletter Neighbors we discussed the proposed teardown and replacement of the Joslin Building at 9250 45th Ave SW. We want to update the Community with what is happening and what we understand from the owners and the City.
Read More...
---
date posted:
15 Dec 2017
by:
Mike Dey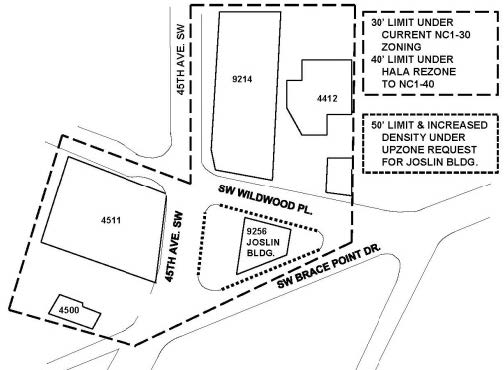 On Oct. 30, the West Seattle Blog reported a proposed rezoning of the Joslin Building at 9250 45th SW in the heart of Fauntleroy's retail area. On Nov. 8, representatives of the FCA Board met with the two owners to confirm the report and better understand their intentions so that FCA could begin an informed discussion with the community.
One of the owners lives in the Arroyos and the other is a former Seattle resident now living in Tacoma. At the meeting, they confirmed the Blog's account and their desire to replace the existing structure with a 5-story mixed-use building with no on-site parking. It would have commercial on the bottom floor and 32 apartments above, each measuring 400 - 500 square feet.
Read More...
---
date posted:
02 Jan 2017
Chances are that you or someone you know has experienced a car prowl or an auto theft. Our friends in the Seattle Police Department Crime Prevention unit offer these handy tip sheets so you can prevent this from happening to you in the future.
Read More...
---