News page 4
date posted:
17 Mar 2021
Let's get to know our local Seattle police officers! Each day will highlight a different specialty unit as campers participate in community-building activities. Small camp sizes let kids ask questions and see what happens in a day in the life of police officers from patrolmen to Mounted units (on horseback).

Dates: April 12th - April 16th 2021

Times: 9am- 11am each day

Ages: 8-12 years old

To register: Please visit https://anc.apm.activecommunities.com/seattle/activity/search/detail/36062?onlineSiteId=0&from_original_cui=true

*Please note: you may need to create an account to register.

For more details and questions, please contact Matthew.Roberson@seattle.gov
---
date posted:
08 Mar 2021
Register to Attend The Fauntleroy Community Association will hold its Annual Membership Meeting on Tuesday April 13th, 2020 at 7:00 PM. Due to continued restrictions around COVID-19 the FCA will hold this meeting virtually using Zoom.
The Annual Meeting is an important opportunity for the FCA membership to hear how the FCA has represented them throughout the previous calendar year, and to cast a ballot for your appointed board members.  The agenda for the meeting included a review of the accomplishments of 2020 and a vote for Board members.  The ballot for Board members is:
Mike Dey, President
Catherine Bailey, Vice President
Alexis Zolner, Treasurer
Frank Immel, Secretary
Sydney Hammerquist, Secretary of Record
Bruce Butterfield.
Alan Grainger
David Haggerty
Kris Ilgenfritz
Susan Lantz-Dey
Kimberly Terry
Nils von Veh
Bill Wellington
Marty Westerman
Typically we hold this meeting in conjunction with our Food Fest, a time to come out of our homes, meet up with friends and neighbors, share some delicious food provided by local establishments and business parthers. This year however, due to the COVID-19 (coronavirus), we elected not to hold the meeting in person in order to ensure the safety of our community.
Our monthly business meetings are typically conducted at the Fauntleroy Schoolhouse on the second Tuesday of every month (with the exception of August and December) at 7:00 in the evening.  Meetings are open to the public.
---
date posted:
03 Mar 2021
From Hadley Rodero, Strategic Communications Manager at WSDOT
Hello Fauntleroy, Vashon and Southworth community members:
At the end of 2020, Washington State Ferries began discussions with stakeholders about how best to engage communities in the Fauntleroy ferry terminal replacement project given current realities. Now we have turned the corner into 2021, we are excited to announce upcoming virtual community meetings. We hope you can participate to learn more about why the current terminal needs to be replaced, how project plans will be developed, and how the community can be involved over a multi-year planning process.

Virtual Meeting Details
Wednesday, Mar. 17

Thursday, Mar. 18

These meetings are the first part of the engagement process, and we need your help to ensure we get connected to communities potentially affected by this project. Community engagement is key creating robust, informed, and productive conversations about the challenges facing the Fauntleroy ferry terminal and subsequently, the Fauntleroy/Vashon/Southworth (Triangle) route. Please share these meeting details with your networks; all are welcome.

If you are unable to attend either meeting, we will post the video recordings of both meetings online and take comments and questions by email. We will also be posting an application to be a part of the project Community Advisory Committee that will help guide the project over the next two years.

Please let me know if you have questions and I hope you're able to join us for an upcoming community meeting.

Hadley

Hadley Rodero
Strategic Communications Manager
Washington State Ferries – WSDOT Ferries Division
roderoh@wsdot.wa.gov
206-818-3813 (mobile)
Pronouns: she/her
---
date posted:
05 Feb 2021
The results of our Fauntleroy Community Survey have been tabulated and posted. We are currently using the results to guide our discussions for the future of Fauntleroy.
---
date posted:
05 Feb 2021
by:
Jennifer Danner
The SW Precinct is seeing an uncharacteristic increase in aggravated assault incidents, with the majority of these being domestic violence related.
Given this, and nature of the last year, the Seattle Police Department would like to offer the following crime prevention newsletter focus on domestic violence- including what is domestic violence, what types of resources are available, and how to report domestic violence to law enforcement.
Always remember- if you or someone you know is experiencing domestic violence or is in danger, call 911 immediately. Please also keep in mind that you can text 911, if you are in a situation where it is unsafe to speak. Call if you can, text if you can't!
Read More...
---
date posted:
26 Jan 2021
Arbor Heights Elementry will be offering Virtual School Tours on February 1st and February 10th.
---
date posted:
09 Nov 2020
Passed to us from the Southwest Precinct
In partnership with a few neighborhood groups, and the Seattle Parks Department- the Seattle Police Department is offering virtual Women's Personal Safety Classes!

Learn proactive tips and step you can take to enhance your personal safety taught by female Seattle Police officers and employees.

Our class goals:

Know the important role your instincts and gut reactions play
Discover potentially dangerous situations and how to avoid them
Learn how to make a safety plan
Decrease the odds of becoming a victim

About the class:

This is a facilitated discussion and lecture about crime prevention and safety.
This is not a self-defense class.
This class is open to women of all ages and most appropriate for young women who are at least 14 years of age or older. For that reason, children should not attend.

November

Date: Thursday November 12th at 3:00 PM
Date: Monday November 23rd at 3:00 PM

If you are unable to attend either of these scheduled classes, don't worry! We are working on scheduling many more (at varying days/times) in the coming weeks/months.
---
date posted:
02 Nov 2020

Every two years, the Fauntleroy Community Association conducts a survey of over 3000 residents in Fauntleroy. We ask questions about current issues affecting the Fauntleroy community, West Seattle, and Seattle as a whole. This allows us to understand what is important to our community members and helps the board set priorities.
The FCA exists to consider and act on concerns affecting the quality of life and character of the Fauntleroy community. Examples of issues and projects we have engaged in include public safety, the ferry, zoning and parking. We also sponsor or co-sponsor events such as the Fall Festival, the Fauntleroy Food Fest, the business triangle planter boxes and this year's Halloween pumpkin hunt.
Take the Survey Your responses to this survey will be treated as anonymous and the survey results will be summarized and available for public review in early 2021.
---
date posted:
27 Oct 2020
by:
Jennifer Danner
Passed to us from the Southwest Precinct
The SW Precinct has recently seen an increase in car prowl incidents in our William 2 (W2) patrol beat area, specifically on and around Beach Drive SW. These incidents are mostly occurring in the night time hours.

Here is the link to our Patrol Beat/Sector map- https://www.seattle.gov/Documents/Departments/police/Precincts/maps/Southwest_Precinct.pdf

In order to address this increase, we would like to remind our community about the following car prowl prevention strategies:

• Check vehicle regularly (especially important during COVID times)

• Never leave valuables in plain view

• Hide chargers and accessories that indicate an electronic device may be in the vehicle

• Remove garage door openers, key cards and other keys from the vehicle

• If possible, park vehicle in a busy, locked, monitored and/or well-lit area

• Install anti-theft devices

• If possible, activate alarm

Jennifer Danner (she/her) #8048
Crime Prevention Coordinator
Southwest Precinct
Seattle Police Department
2300 SW Webster Street
Seattle, WA 98106-3485
Desk: (206) 256-6820, Cell: (206) 471-2849
Jennifer.Danner@seattle.gov
---
date posted:
24 Oct 2020
#FCApumpkins – The Hunt is on!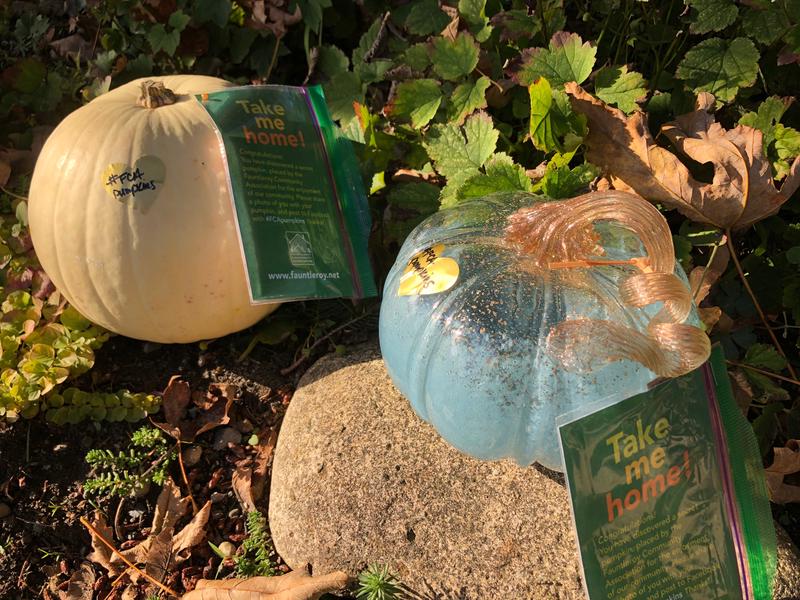 In an effort to bring some fun to the dwindling daylight, throughout the week of October 26-30, The Fauntleroy Community Association is sponsoring a community pumpkin hunt. If you search around the Endolyne/Fauntleroy area, you may find a white pumpkin – or even a beautiful blown glass pumpkin – with a note attached. Some even include a gift certificate for use at our local merchants, compliments of the FCA board members.
We hope you'll participate. We encourage you to take your pumpkin home with you, then take a picture of yourself with your pumpkin, and post it to your Facebook page, with #FCApumpkins
Enjoy!
Fauntleroy Community Association 2020 Board Members
---