Multi-family, Commercial, and Urban Village Zoning
posted: 10 May 2018
June 5 is a Public Hearing for District 1. This meeting is at Chief Sealth High School, 2600 SW Thistle, beginning at 6. The hearing begins at 6:00 p.m. and will continue until all in-person comments have been received. Members of groups, organizations, or coalitions with similar interests are encouraged to combine their presentations. Group presentations with four or more people will be limited to up to five (5) minutes. Individual comments will be limited to up to two (2) minutes.
---
posted: 04 May 2018
May 9 from 6 - 8 is the Final Open House for the Mandatory Housing Affordability (MHA) District 1 is at Louisa Boren K - 8, 5950 Delridge Avenue SW. District 1 includes Fauntleroy and the urban villages: Admiral, Morgan Junction, South Park, West Seattle Junction, Westwood-Highland Park. This is the last chance to ask questions about the proposed upzones from representatives from multiple city departments directly working on the MHA Proposal. The City has sent out emails that the following City departments planning to attend are: Office of Community Planning and Development (OPCD), Office of Housing (OH), Department of Neighborhoods (DON), Seattle Parks, Seattle City Light (SCL), Seattle Public Utilities with Rainwise (SPU), Seattle Department of Construction and Inspections with RRIO and code compliance (SDCI), Office of Sustainability and the Environment (OSE), Office of Economic Development (OED), King County Metro Transit (METRO), and Seattle Department of Transportation (SDOT).
---
posted: 15 Dec 2017 by: Mike Dey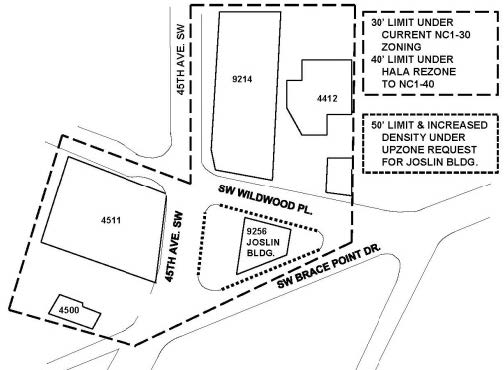 On Oct. 30, the West Seattle Blog reported a proposed rezoning of the Joslin Building at 9250 45th SW in the heart of Fauntleroy's retail area. On Nov. 8, representatives of the FCA Board met with the two owners to confirm the report and better understand their intentions so that FCA could begin an informed discussion with the community.
One of the owners lives in the Arroyos and the other is a former Seattle resident now living in Tacoma. At the meeting, they confirmed the Blog's account and their desire to replace the existing structure with a 5-story mixed-use building with no on-site parking. It would have commercial on the bottom floor and 32 apartments above, each measuring 400 - 500 square feet.
---