Welcome! We're glad you're here!
Welcome to the Fauntleroy Community Association portal to news, activities, and organizations in or affecting Fauntleroy. We hope you will enjoy learning more about Fauntleroy and our organization, and that you will get and stay involved in the life of our neighborhood.
Contribute to the Tuxedos and Tennis Shoes sock and blanket drive
Tuxedos and Tennis Shoes Catering, which operates The Hall at Fauntleroy, asks neighbors to contribute to a sock and blanket drive—they will fill their cargo van and distribute donations at a local shelter on Thanksgiving Day. You can drop off new socks and blankets to their main office (4101 Airport Way South) or in the collection bin at the Fauntleroy Schoolhouse. Questions? Call Carol Madaio at 206-932-1059.
Fall Festival rocked the neighborhood on Oct. 11!
The Fauntleroy Fall Festival is an annual neighborhood celebration brought to you by the Fauntleroy Community Association, Fauntleroy Church UCC, West Seattle/Fauntleroy YMCA, Tuxedos and Tennis Shoes Catering, Endolyne Joe's, Fauntleroy Children's Center, Little Pilgrim School, Fauntleroy Schoolhouse, and members of the Fauntleroy community.
Visit our Fauntleroy Fall Festival webpage for photos, videos, and more information: www.fauntleroy.net/fallfestival.html.
Congratulations, Fauntleroy Church!
On Sunday, September 20, Fauntleroy Church UCC members unanimously voted to appoint Rev. Leah Atkinson Bilinski as their new senior pastor, ending a 2+ year search. Read more on the church press release.
As Fauntleroy Church always welcomes visitors, all are welcome to attend her first service as senior pastor on Sunday, November 29. The Fauntleroy Community Association welcomes Leah, along with her husband and daughter, to the Fauntleroy neighborhood!
Got Fauntleroy School memorabilia?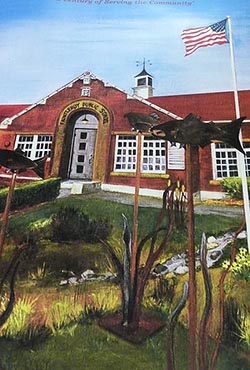 The Fauntleroy Schoolhouse turns 100 in 2017, and a planning committee is laying the groundwork for several celebrations leading up to 2017. Here's what's needed:
Photos and memorabilia: Both donations and loans of materials are welcome. Please include names and year(s) spent at the school.

A database of school alumni. E-mail your contact information and years of attendance.

Centennial event planning. All meetings are held at the Schoolhouse in conference room A.
If you can help, e-mail faunt.schoolhouse100years@gmail.com.
The Fauntleroy Story helps keeps the spirit alive!
The Seattle Channel graciously carries The Fauntleroy Story: 100 Years of Community on their website. Click here to read their description of the videol and suggestion about using our story "to prompt discussion about what makes a neighborhood a community and how to keep that spirit alive."
Thank you to our Community Partners!
| | | |
| --- | --- | --- |
| Bruce Butterfield, Berkshire Hathaway Real Estate | Janet Keen, Mental Health Counselor | Tuxedos and Tennis Shoes Catering |
| Dance! West Seattle | Pilates at Fauntleroy | Ultrafabtech Computer Repair and Consulting |
| Devir Americas, LLC | Salon Fauntleroy | West Seattle & Fauntleroy YMCA |
| Endolyne Joe's Restaurant | Sheppard Bookkeeping Services | West Seattle Blog |
| Fauntleroy Children's Center | Stuffed Cakes | |
| Fauntleroy Church, United Church of Christ | Synergy HomeCare | |
| Fauntleroy Massage | The Kenney Retirement Community | |
For information about becoming a Community Partner, e-mail FCA president Mike Dey (msdey50@aol.com) or vice-president David Haggarty (dh@tuxedosandtennisshoes.com).
Take our survey!
Your Fauntleroy Community Association wants to know what you think! Two years ago, the Fauntleroy Community Association (FCA) sent a survey to over 3,000 Fauntleroy residents. The purpose was to find out what matters to them most, so that the FCA Board could better focus on the community's concerns.
Since that survey, FCA has taken a number of actions to address issues that residents identified. This year, we are conducting a survey that probes deeper into some of the areas we asked about before, and into some new issues that have emerged more recently.
Click on the button at right to go directly to Survey Gizmo. Thank you in advance for helping to strengthen your community association!
2014 Annual Report Available Online
The 2014 Fauntleroy Community Association report was mailed to FCA members earlier this year. A copy has been posted online on the About Us webpage. Read and celebrate the many accomplishments of your neighborhood association!
Community Resources Directory
Our Community Resources Directory can be printed for easy reference at home. We add more information on a regular basis, so check back periodically for updates.