Welcome! We're glad you're here!
Welcome to the Fauntleroy Community Association portal to news, activities, and organizations in or affecting Fauntleroy. We hope you will enjoy learning more about Fauntleroy and our organization, and that you will get and stay involved in the life of our neighborhood.
Food Fest is second largest neighborhood event of the year
On Tuesday, March 15, mingle with your neighbors and sample the fine foods of Fauntleroy at the Fauntleroy Food Fest & FCA Annual Meeting. The fun starts at 6 p.m. at The Hall at Fauntleroy (9131 California Avenue SW). There's a no-host bar; otherwise this annual event is free. But please bring your checkbook or Visa/Mastercard and plan to pay your FCA membership. We're also collecting donations for the food bank, to help neighbors in need.
For photos of last year's Food Fest, see West Seattle scenes: Fauntleroy Community Association's 2015 Food Fest (West Seattle Blog, 3/18/15). Join the fun!
Got Fauntleroy School memorabilia?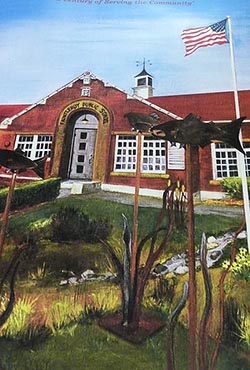 The Fauntleroy Schoolhouse turns 100 in 2017, and a planning committee is laying the groundwork for several celebrations leading up to 2017. Here's what's needed:
Photos and memorabilia: Both donations and loans of materials are welcome. Please include names and year(s) spent at the school.

A database of school alumni. E-mail your contact information and years of attendance.

Centennial event planning. All meetings are held at the Schoolhouse in conference room A.
If you can help, e-mail faunt.schoolhouse100years@gmail.com.
The Fauntleroy Story helps keeps the spirit alive!
The Seattle Channel graciously carries The Fauntleroy Story: 100 Years of Community on their website. Click here to read their description of the videol and suggestion about using our story "to prompt discussion about what makes a neighborhood a community and how to keep that spirit alive."
Fall Festival rocked the neighborhood on Oct. 11!
The Fauntleroy Fall Festival is an annual neighborhood celebration brought to you by the Fauntleroy Community Association, Fauntleroy Church UCC, West Seattle/Fauntleroy YMCA, Tuxedos and Tennis Shoes Catering, Endolyne Joe's, Fauntleroy Children's Center, Little Pilgrim School, Fauntleroy Schoolhouse, and members of the Fauntleroy community.
Visit our Fauntleroy Fall Festival webpage for photos, videos, and more information: www.fauntleroy.net/fallfestival.html.
Thank you to all our Community Partners!
| | | |
| --- | --- | --- |
| Bruce Butterfield, Berkshire Hathaway Real Estate | Janet Keen, Mental Health Counselor | Tuxedos and Tennis Shoes Catering |
| Dance! West Seattle | Pilates at Fauntleroy | Ultrafabtech Computer Repair and Consulting |
| Devir Americas, LLC | Salon Fauntleroy | West Seattle & Fauntleroy YMCA |
| Endolyne Joe's Restaurant | Sheppard Bookkeeping Services | West Seattle Blog |
| Fauntleroy Children's Center | Stuffed Cakes | |
| Fauntleroy Church, United Church of Christ | Synergy HomeCare | |
| Fauntleroy Massage | The Kenney Retirement Community | |
For information about becoming a Community Partner, e-mail FCA president Mike Dey (msdey50@aol.com) or vice-president David Haggarty (dh@tuxedosandtennisshoes.com).
2014 Annual Report Available Online
The 2014 Fauntleroy Community Association report was mailed to FCA members earlier this year. A copy has been posted online on the About Us webpage. Read and celebrate the many accomplishments of your neighborhood association!
Community Resources Directory
Our Community Resources Directory can be printed for easy reference at home. We add more information on a regular basis, so check back periodically for updates.