Welcome! We're glad you're here!
Welcome to the Fauntleroy Community Association portal to news, activities, and organizations in or affecting Fauntleroy. We hope you will enjoy learning more about Fauntleroy and our organization, and that you will get and stay involved in the life of our neighborhood.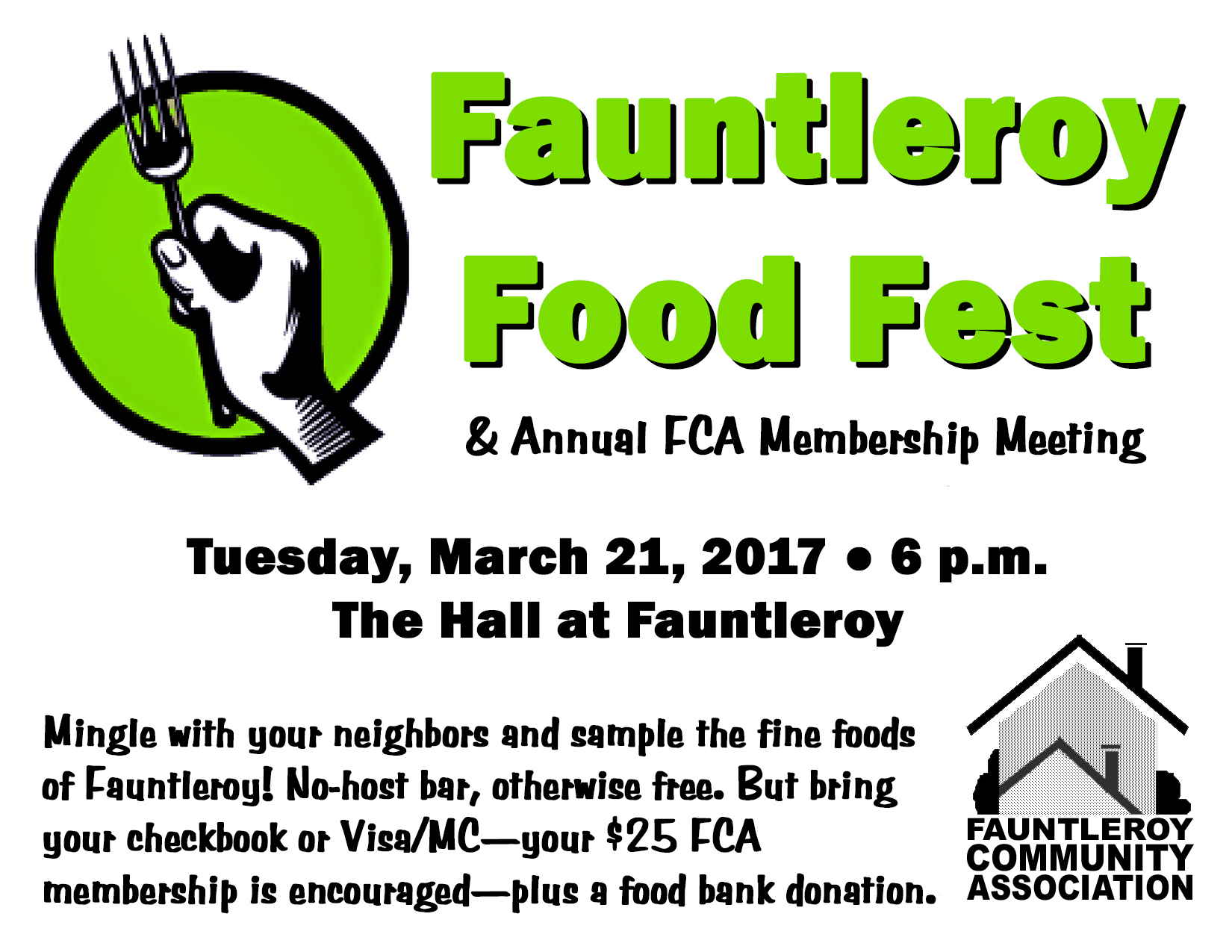 Fauntleroy Food Fest & Annual Meeting is March 21
Join us at the Fauntleroy Food Fest on Tuesday, March 21 (6 p.m.) at The Hall at Fauntleroy in the Fauntleroy Schoolhouse.
This annual event is your chance to meet and mingle with neighbors, learn about organizations serving our neighborhood, and—best of all—sample fine food provided by Fauntleroy-area restaurants and caterers. There's also a no-host bar.
No charge to attend but, if you haven't yet paid your 2017 FCA membership dues, please bring your checkbook or Visa/Mastercard. Also, we're collecting food bank donations. Join the fun!
Fauntleroy is not immune to car prowls
Chances are that you or someone you know has experienced a car prowl or an auto theft. Our friends in the Seattle Police Department Crime Prevention unit offer these handy tip sheets so you can prevent this from happening to you in the future. Click on each image to open a PDF. Please read and share!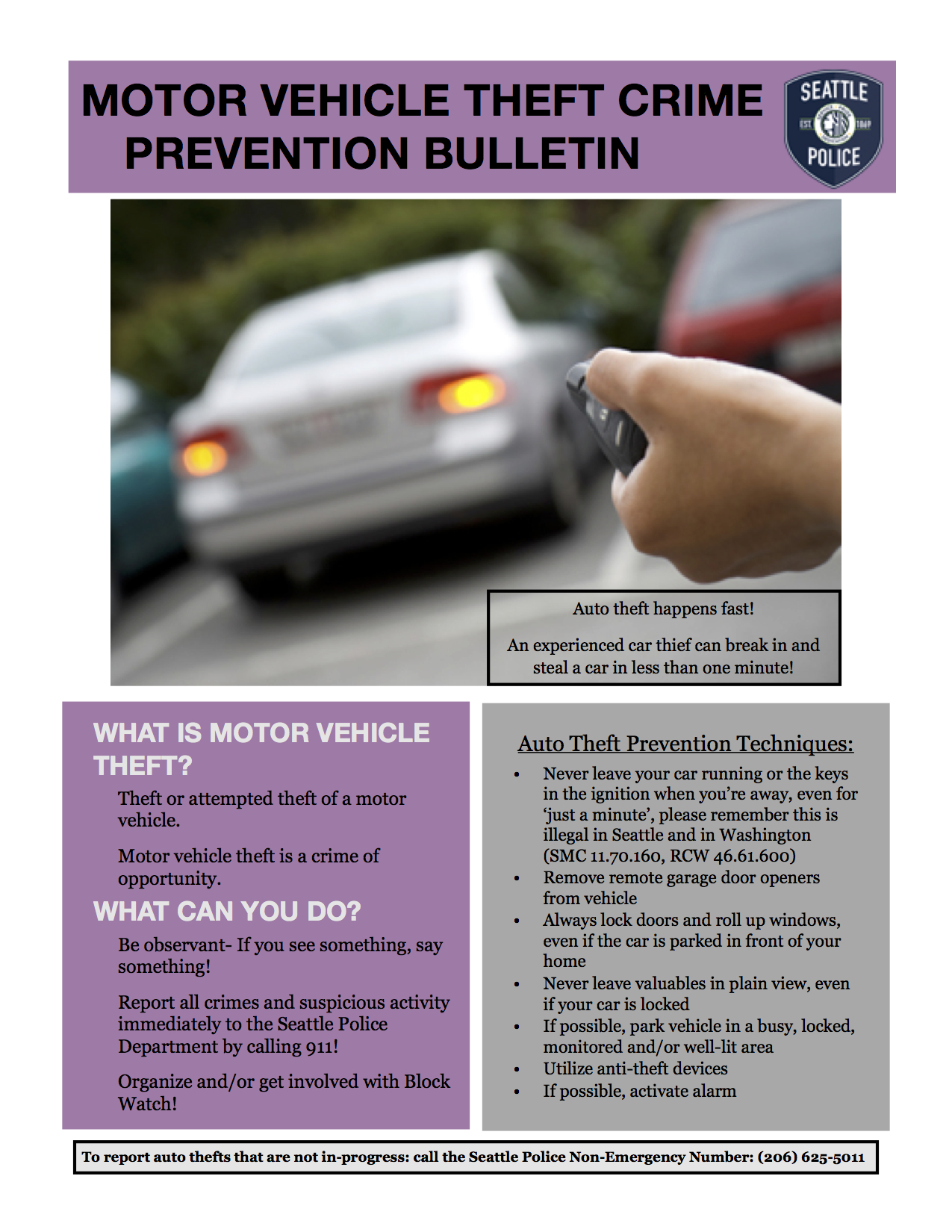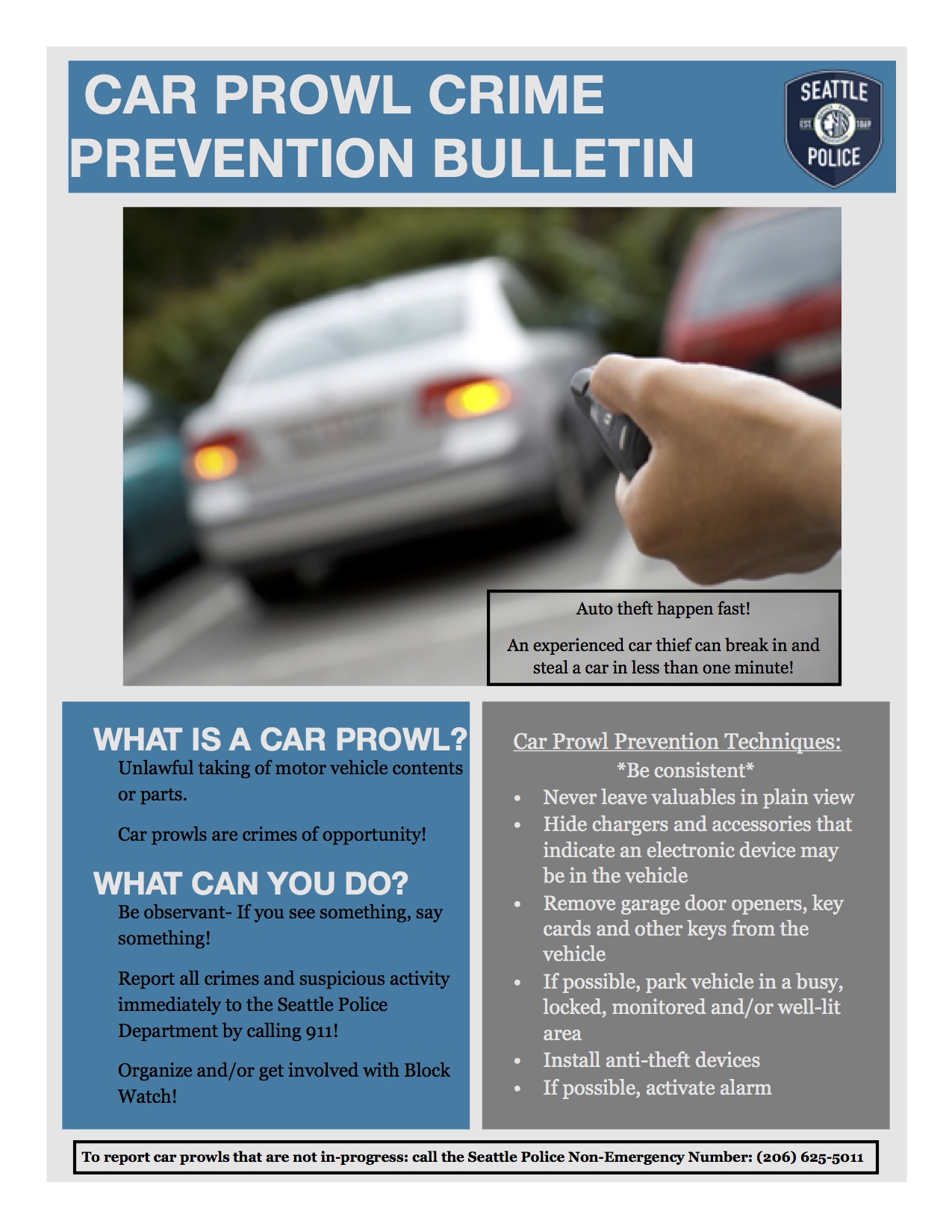 Fauntleroy Schoolhouse—99 going on 100!
The Fauntleroy Schoolhouse turns 100 in 2017, and a planning committee is laying the groundwork for several celebrations leading up to 2017. The centennial event will be held Sunday, May 21, 2017, 11:30 a.m. to 3:30 p.m. The event will start with a "group hug" photo at 11:30 and a flag raising at noon, followed by speakers, music, games, food and more. A new flagpole has been donated in appreciation by Christy Gamrath and family, who still reside in the neighborhood. The flag likely last flew in June 1981 when Fauntleroy Schoolhouse was closed by Seattle Public Schools.
Here's what's needed:
Photos and memorabilia: Both donations and loans of materials are welcome. Please include names and year(s) spent at the school.

A database of school alumni. E-mail your contact information and years of attendance.

Centennial event planning. All meetings are held at the Schoolhouse in conference room A.
If you can help, e-mail faunt.schoolhouse100years@gmail.com. You can follow current activities as well as plans for the celebration by following Fauntleroy Schoolhouse on Facebook.
The Fauntleroy Story helps keeps the spirit alive!
The Seattle Channel graciously carries The Fauntleroy Story: 100 Years of Community on their website. Click here to read their description of the videol and suggestion about using our story "to prompt discussion about what makes a neighborhood a community and how to keep that spirit alive."
Thank you to all our Community Partners!
| | | |
| --- | --- | --- |
| Brace Point Law | Endolyne Joe's Restaurant | Sheppard Bookkeeping Services |
| Bruce Butterfield, Berkshire Hathaway Real Estate | Fauntleroy Children's Center | Stuffed Cakes |
| Cherie's Canine Casa | Fauntleroy Church, United Church of Christ | Synergy HomeCare |
| Dance! West Seattle | Fauntleroy Community Service Agency | The Kenney Retirement Community |
| Daystar Retirement Village | Fauntleroy Massage | South Tacoma Way, LLC |
| Devir Americas, LLC | Innate Vitality Wellness Studio | West Seattle & Fauntleroy YMCA |
| DSquared: Occasions With Soul | Ocean Light Zen Center | West Seattle Blog |
| Ediez Salon at Fauntleroy | Pilates at Fauntleroy | Wildwood Market |
| | | |
For information about becoming a Community Partner, e-mail FCA president Mike Dey (msdey50@aol.com) or vice-president David Haggarty (dh@tuxedosandtennisshoes.com).
2015 Annual Report Available Online
The 2015 Fauntleroy Community Association report was mailed to FCA members earlier this year. A copy has been posted online on the About Us webpage. Read and celebrate the many accomplishments of your neighborhood association!
Community Resources Directory
Our Community Resources Directory can be printed for easy reference at home. We add more information on a regular basis, so check back periodically for updates.