New Neighbor Welcome Bags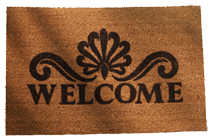 Do you have a new neighbor on your block? Do you see new neighbors when you walk the dog? Have you thought of saying hello … but then what?
The FCA's New Neighbor Welcome Bag can help you introduce the neighborhood after you have introduced yourself. Its contents welcome new arrivals, whether from out of state or across town, with the most recent FCA newsletter, maps, and other information plus gifts from local businesses.
FCA volunteers will deliver the bag to your home for you to bring to your neighbor. Or you can ask that an FCA volunteer make the delivery. The gift bag is a way for both the FCA and you to say that we care.
To request an FCA Welcome Bag for a new neighbor, contact Susan Lantz-Dey or any FCA Board member.