Fauntleroy Fall Festival
The Fauntleroy Fall Festival is an annual neighborhood celebration brought to you by the Fauntleroy Community Association, Fauntleroy Church UCC, West Seattle/Fauntleroy YMCA, Tuxedos and Tennis Shoes Catering, Endolyne Joe's, Fauntleroy Children's Center, Little Pilgrim School, Fauntleroy Schoolhouse, and members of the Fauntleroy community.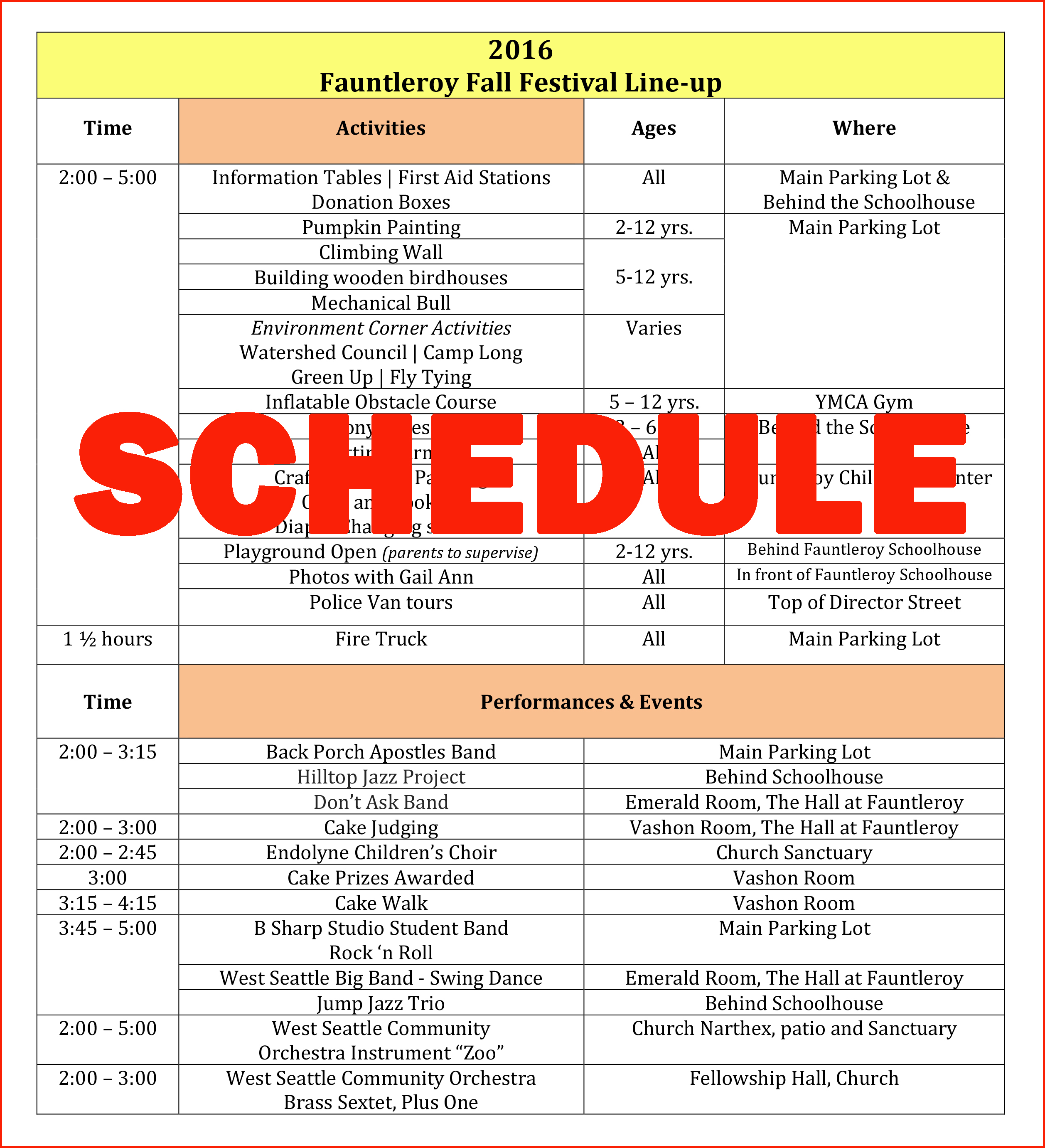 The festival is TODAY—Sunday, October 23—from 2 to 5 p.m.!
This Sunday, October 23, come to the 2016 Fauntleroy Fall Festival! This family, elder, and pet-friendly event is an annual event that draws hundreds of neighbors and friends. The 2016 schedule is posted at right. Below, you can also see the food lineup.
There is something for everyone at the Fauntleroy Fall Festival. Join us!
Questions? E-mail fauntleroyfallfestival@gmail.com. Follow us on Facebook. Stay tuned for more information closer to festival time.
Cake Decorating Contest and Cake Walk
This year's festival includes the ever-popular Cake Decorating Contest and Cake Walk events. This will occur in the Vashon Room at the Hall at Fauntleroy. In order to make this event a success, we are calling on bakers to provide cakes. We need lots of them!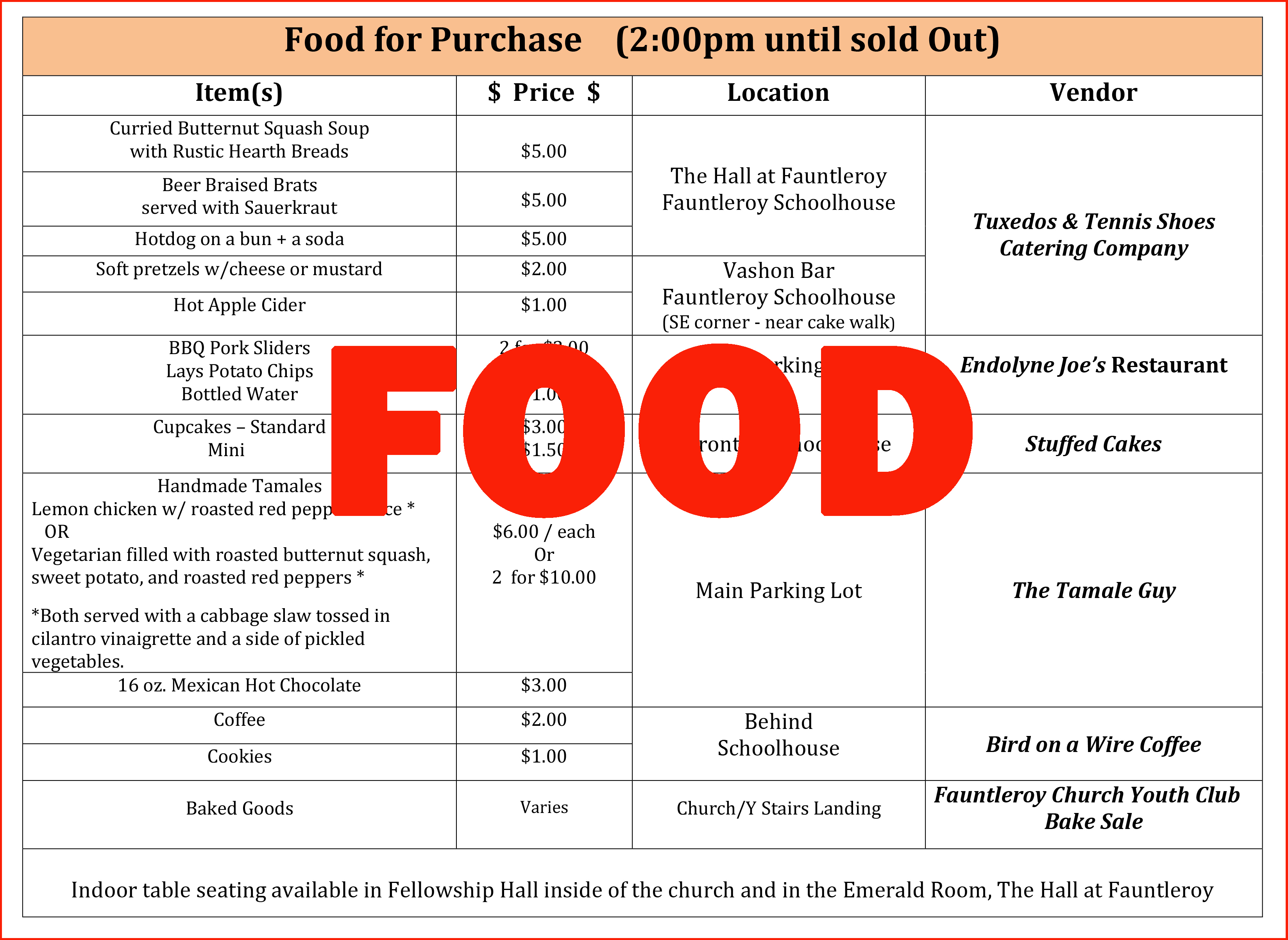 The decorating contest has three categories: Beginner, Intermediate and Advanced. Cakes can be any shape or size but should have either a Fall, Halloween or West Seattle theme. They can be very simple to very elaborate, baked and decorated by an individual, or a parent and child, a family, or a group of friends. Click on the photo at right for a small sample of cakes from last year's event. Visit our Archives page for lots of beautiful cake pictures over the years.
Cakes should be brought to the Vashon Room on the day of the festival, between 12 noon and 1 p.m. Voting will begin at 1:30 and continue until about 3 p.m. Once the votes have been tallied, prizes will be awarded for each category. (Who votes? You do, along with other Fall Festival guests.) And then the Cake Walk begins! The Cake Walk continues until all the cakes have been given away. If you do not want to enter the Cake Decorating Contest, you can bake and donate a cake for the Cake Walk.

Questions about the Cake Decorating Contest and/or Cake Walk? E-mail Carolyn Tucker at tucker_family@mac.com.
Photos from previous festivals
The 2015 Fauntleroy Fall Festival took place on Sunday, October 11, 2015. More than 1,500 people turned out at The Hall at Fauntleroy, Fauntleroy Schoolhouse, and Fauntleroy Church and parking lot. Photos are available in our Photo Archive.
Be the first on your block to know about Fall Festival events
Are you a neighbor in the know? Stay in touch with the Fauntleroy Fall Festival. Learn about the schedule. Be among the first to see festival photos.